Since 2007, the Australian Football League has dedicated one round of matches during the season to the contributions that Indigenous Australians have made to the sport. This season, in addition to pre-game concerts and specially designed team uniforms, the AFL Indigenous Round featured an on-field celebration by Adam Goodes that finished with the Sydney Swans player hurling an imaginary spear into the turf. Even though he's one of the most renowned Indigenous players in Australian football (and one of the country's most respected footballers), his dance set off a media storm and showed the limits to the AFL's efforts at embracing diversity.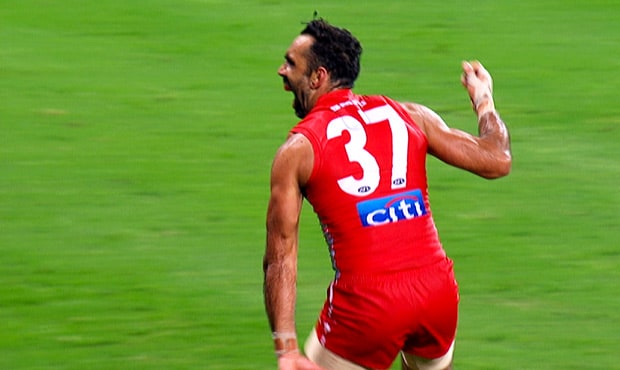 The incident is now known as #InvisibleSpeargate. It put the Australian Football League's annual Indigenous Round on the front page, but for reasons that probably had CEO Gillon McLachlan banging his head on his desk. Hard.
During a match with Carlton on May 29, Sydney Swans player Adam Goodes celebrated a goal with an Aboriginal "war dance" directed at opposition fans. The response to the celebration from football commentators was almost unanimous: we don't want to see this. One of the most prominent Indigenous footballers in AFL history and winner of the 2014 Australian of the Year award, Goodes explained afterward that he learnt the dance from an under-16 Indigenous team, the Flying Boomerangs, and that it was a statement of pride in his heritage: "It was a battle cry at you guys, saying this is who I am and what I represent.… There was nothing untoward to the Carlton supporters. It was actually something for them to stand up and go, 'Yep we see you, and we acknowledge you – bring it on.'"
Goodes' statement implies an exchange between equals, that also acknowledges racial difference. However, while the majority of news reporting and much online commentary were supportive of Goodes, the Carlton fans booed, and the immediate response from the commentary box was unanimous: he shouldn't have done it. The patterns in the ways the commentators articulated their discomfort show that Australians haven't made as much progress on race issues in footy as they might like to think.
In 1993, when Indigenous player Nicky Winmar lifted his St Kilda jumper to point to his skin in response to unrelenting racist abuse from opposing fans and players throughout the match – a now iconic gesture – he sparked a process of cultural change. Two years later, Essendon star Michael Long insisted that action be taken against a player who racially vilified him on the field. The week after Long made his stand, the Collingwood cheer squad produced a banner reading "STICKS & STONES MAY BREAK MY BONES BUT NAMES WILL NEVER HURT ME," next to the image of a baby's dummy (pacifier) in the black and red colours of Essendon. In Australian slang, "to spit the dummy" means to lose one's temper in a childish way, like a baby throwing a tantrum. The message was clear: racism is just part of the game. Indigenous players need to "grow up" and take it.
But the AFL responded by introducing Rule 30, the first law in Australian sport to prohibit racial vilification. The league also introduced a Racial Vilification and Discrimination Policy, and has justifiably been lauded for the action it has taken against racism. Racial abuse, both on the field and in the stands, has become rare. Indigenous culture is now celebrated with Indigenous Round, a weekend of matches and other events marking the contributions that Indigenous players have made to Australian football. All AFL teams wear jumpers and use a game ball that feature Indigenous designs, and entertainment before matches includes live performances from prominent Indigenous Australians.
But deeply-entrenched racist attitudes persist, as the responses to Goodes' dance highlight. In trying to diffuse the situation with Nicky Winmar in 1993, then-Collingwood president Allan McAlister unwittingly articulated the belief at the heart of the hostility: "As long as they conduct themselves like white people, well, off the field, everyone will admire and respect.… As long as they conduct themselves like human beings, they will be all right. That's the key." There's a clear racism to this sentiment: Indigenous culture, and Indigenous people, are inferior to Europeans. There's a second racist implication, too: if "they" force "us" to acknowledge their Indigeneity, then that is unacceptable.
Fast forward to 2015, and responses to Goodes' celebration bear striking similarities to McAlister's words of more than 20 years ago. For example, former Sydney player Barry Hall remarked: "I understand he's very proud of his heritage and where he's from and that's fine, but I don't really like to see this." According to this view, an expression of Indigenous pride is something to be done in private. In a public setting, such as a football ground, Goodes must act like white people and not remind them that he is Indigenous.
Typical of his over-the-top style, prominent commentator and Collingwood president Eddie McGuire took this view even further. At half-time on Fox Footy, McGuire said, "Well, you get absolutely smashed in British soccer and particularly in Scottish soccer if you go off. You're not even allowed to cross yourself going onto the ground when Celtic plays Rangers because of the sectarian violence and things there." The comparison was startling. Does McGuire believe there is so much hatred between Indigenous and non-Indigenous Australians that an Indigenous player drawing attention to his Indigeneity, in any way, is likely to provoke violence? The spectre of fan violence that he raises does not reflect how the vast majority of AFL fans interact with their rivals. Fans tear verbal strips off their rivals during the game, but they will sit beside one another without hesitation on the train home and have a chat and a chuckle about the game. That's what makes McGuire's comment so extreme. According to his view, the only way to keep Indigenous and non-Indigenous Australians from exploding into violence is if everyone pretends that race doesn't exist – or in other words, if Goodes behaves like a whitefella.
In a later interview, McGuire attempted to distance his objections from the fact that Goodes' celebration was an expression of his Indigenous heritage. "Personally, I don't like to see demonstrative demonstrations after a goal or anything else," he declared. Leaving aside the fact he hasn't condemned any other player for celebrating a goal, McGuire has a history of missing the racism of his words. His own friendship with Goodes ended in May 2013 when McGuire joked on radio that the Swans player could be used to promote the new musical King Kong, just days after a young Collingwood fan called Goodes an ape during a match. The fan was ejected from the ground after Goodes informed security. McGuire apologized for his remark, blaming tiredness and being "zoned out."
Most tellingly, in an interview after the Swans-Carlton match, McGuire suggested that Goodes should have told the AFL about his plans to celebrate a goal. "Had we known before the game that Adam or the indigenous players were planning to do some sort of 'war cry', we could have been able to educate and understand the situation," McGuire said. Very practical. Before the game begins, an announcement might come over the loudspeaker at the ground: "Patrons, please be advised that, at some point during the game, an Indigenous player (or players) may perform 'some form of cultural dance' to celebrate kicking a goal. We understand that some people may find expressions of Indigenous culture confronting, but request that patrons not respond with fear or aggression, but to remain calmly in their seats at all times." (The phrase "some form of cultural dance" was used in the Fox Footy half-time coverage).
Ridiculousness aside, McGuire's suggestion puts the onus on Goodes to manage others' potentially racist responses, rather than on the fans (and commentators) not to react inappropriately. Likening the situation to the fight for marriage equality, McGuire suggested that adverse responses to Goodes are motivated by "fear," which can be overcome through education. While this might be the case, by putting the obligation on Goodes and other Indigenous players, it suggests that such fears are reasonable. As Goodes himself said after the game, "Is this the lesson we want to teach our children, that when we don't understand something we get angry and we put our back up against the wall [and decide] that's offensive?"
Condemning Goodes for celebrating his culture in his own way – in a way not officially sanctioned by the AFL – suggests a shallowness to the celebration of Indigenous culture, and Indigenous contributions to the game. Indigenous Round might be about 'bringing two cultures together', as the AFL website states. But rather than a meeting of equals, in the view of McGuire – and most commentators – white culture must be in charge.
As some non-sports commentators have pointed out, the worst thing about the furore is that it has deflected attention away from the injustices that Indigenous Australians face: shorter life expectancies, disproportionate rates of incarceration, and threatened withdrawal of services from remote Indigenous communities, which effectively force residents off their traditional lands. Rather than addressing these issues, the media spent days focused on an imaginary spear.
New South Wales state parliament officially passed a motion to declare McGuire a "boofhead" over his comments (yes, that actually happened). Many articles in mainstream and online media parodied the outcry, summed up in a widely-reposted tweet by comedian Aamer Rahman: "White Australia is so terrified of Aboriginal people that an imaginary spear still has them crying 3 days after it didn't hit them." However, on football matters, fans are more likely to take the side of sports commentators and influential players than a state government. An official statement, and some more training for its commentators, would show that the League's commitment to cultural diversity goes beyond Indigenous Round.
Deb Waterhouse-Watson is author of Athletes, Sexual Assault, and "Trials by Media." She is a Postdoctoral Research Fellow at Macquarie University, investigating the process of court reporting on sexual assault trials involving Australian footballers. Deb is on Twitter at @DebWaterhouseW.